Scientific Injection Molding
At All-Plastics, our Master Molders provide enhanced injection molding through Scientific Molding techniques. Our techniques improve quality, consistency, while optimizing efficiency and performance. Providing high quality products is our #1 priority and we will take every precaution in guaranteeing all products meet all requirements.
We ensure high quality through consistent and robust processes that improve your quality and time to market!
Benefits of our Scientific Molding
Advanced Injection Molding Techniques

Advanced Equipment including Cavity Pressure & Temperature Sensors

Advanced Diagnostic Tools

Full Program Documentation and Component Traceability that can be accessed from anywhere in the World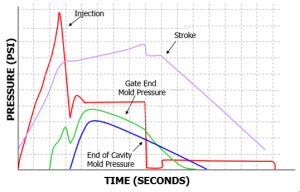 If you don't have data,
you only have an opinion!
We deliver high quality products, every-time, and save you money through asset life extension.
High Quality Products

Consistent & Robust Processes

Increased Performance

Increased Speed-to-Market

Asset Life Extension

Proven Statistical Results
RJG eDart Quality Moldings
RJG eDART systems are used extensively throughout our plants and we are assured quality parts shot after shot with real time process control. The eDART system allows us to control the entire plastic injection molding process and pinpoint, diagnose and resolve problems faster throughout the molding process.
As an intricate part of the RJG technology, cavity pressure sensing technology allows All-Plastics to produce superior quality products through precise injection molding capabilities. Cavity pressure technology utilizes a number of sensors throughout the molding process in order to determine optimum results in the qualification process.
Relative viscosity- determines optimum fill rate to reduce inconsistencies

Cavity balance- determines if cavities are properly filled 

Gate seal analysis- packs the same amount of plastic from shot to shot
What is Scientific Molding?
Not familiar with Scientific Molding?
Scientific or Decoupled Molding is a systematic approach to molding that accepts the scientific principle of plastic behavior and combines them with the known variables which we can control.
Advantages of a Decoupled Process:
Quantitive measurables:  minimize start up times, cycle times, root cause problem solving, scrap and process inconsistencies while maximizing efficiencies and profitability

Process development and method of solving problems consistent between technicians, presses, molds and companies

Independent process sheets regardless of machine type (toggle, hydraulic, electric, etc.) because process is developed by "what the plastic feels" as opposed to machine inputs

Fool-proofing your process to guarantee consistent quality of a molded part regardless of machine, material or mold inconsistencies