Providing high quality products is our #1 priority and we will take every precaution in guaranteeing all products meet all requirements. We deliver high quality products, every-time, and provide return on investment through asset life extension.
Establishing Quality in the Process ensures Zero Effects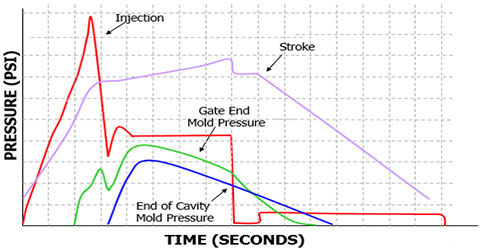 "They take scientific molding to a higher level. We've been with All-Plastics for almost 20 years and they're good at producing the product we need."
-Customer since 1998, Medical Market
Benefits of our Scientific Molding
Advanced Injection Molding Techniques

High Quality Products

Advanced Equipment including Cavity Pressure & Temperature Sensors
Consistent & Robust Processes

Increased Performance

Advanced Diagnostic Tools

Increased Speed-to-Market
Full Program Documentation and Component Traceability that can be accessed from anywhere in the World

Proven Statistical Results

Asset Life Extension

Return on Investment through Asset Life Extension
Owning an injection tool can be a huge investment. We take pride in ensuring our customers molds are kept in optimum condition while in our possession. We have controls and processes in place that not only maintain our customers molds but also extend the life of the tools and provide return on investment.
Robust preventative maintenance planning on customers molds

In-house tool room and tooling experts to quickly turn around repairs, engineering changes and more.

Non traditional injection molding techniques (scientific molding) ingrained in all processes and proven to extend life of asset (shots on tools)

Robust preventative maintenance planning on all manufacturing equipment
Case Study
16 Cavity Mold
Guarantee
Prices/Year
Piece Price
Sales Revenue
2-Year
Piece Price
New Mold
Total Cost
2-year
Savings
Competitor
$245,000
1 Million Shots
16 Million Pieces
$0.050
$800,000
$1,600,000
$245,000
$1,845,000
$0
All-Plastics
$245,000
2 Million Shots
16 Million Pieces
$0.055
$880,000
$1,760,000
$0
$1,760,000
$85,000
What is Scientific Injection Molding?
Not familiar with Scientific Injection Molding?
Scientific injection molding or Decoupled Molding is a systematic approach to molding that accepts the scientific principle of plastic behavior and combines them with the known variables which we can control.

Quantitive measurables: minimize start up times, cycle times, root cause problem solving, scrap and process inconsistencies while maximizing efficiencies and profitability.

Process development and method of solving problems consistent between technicians, presses, molds and companies.

Independent process sheets regardless of machine type (toggle, hydraulic, electric, etc.) because process is developed by "what the plastic feels" as opposed to machine inputs.

Fool-proofing your process to guarantee consistent quality of a molded part regardless of machine, material or mold inconsistencies.