All-Plastics has expertise in providing retail packaging injection molding solutions to the largest health and beauty companies to the industry's best packaging companies in the U.S. Since 1969, our creative solutions and expertise have supported a vast array of packaging products and solutions.
Customization and innovation are crucial for retail packaging for the health and beauty industries. The market expects high standards for quality, functionality, and aesthetic value. With our plastic molding package machinery, we can mass-produce packaging materials that meet these standards and help brands differentiate themselves from their competitors.
Our experts provide Project Management solutions from Concept to Operational Excellence, including full program documentation and component traceability. Read on for more information about these services.
Packaging Markets and Industries Served
› Health
› Beauty
› Caps
› Closures
› Dispensing Systems
› Shipping Solutions
› And More…
Benefits of Our Molded Products
Our experts provide Project Management solutions from Concept to Operational Excellence, including full program documentation and component traceability.
Best in class injection molding equipment (tonnage 14 – 1,000/ shot size 0.358 – 288 oz)
Fully Automated Work Cells: servo robotics, vision systems, box loaders & more
Full range industry leading secondary equipment, assembly, in-mold labeling, decorative printing and individualized packaging options to support direct shipping
Processing expertise with a wide range of materials
Packaging Products for Purchase
Molded Plastic Jars and Lids:
Do you have a great product that needs a great package? We can manufacture 2.5 oz jars and their lids in any material, any color, and as many or as few as you need. Download our brochure below for more information.
SMD (Surface Mount Device) Reels:
Acrotech SMD reel assemblies and components, including flanges and hubs, for purchase and custom order in a variation of sizes and colors. Made with high impact polysterene (HIPS) and can be antistatic coated during the molding process or as a secondary operation. Download our brochure below for available sizes.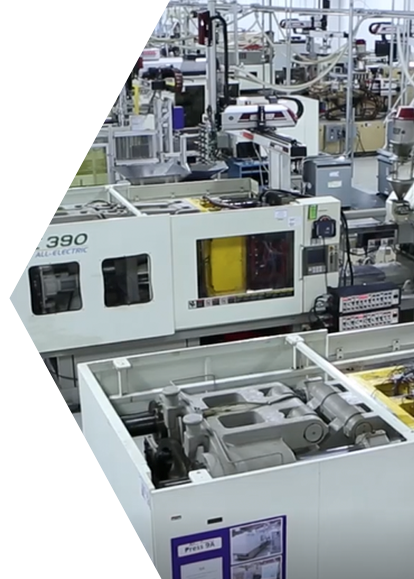 Production solutions that increase quality, security and provide cost advantages for the Packaging Market are:
Decoupled III Systematic Molding
Part Verification
Real Time Production Reporting
Product Development
Project Launch & Transfer
Program Management
Cavity Sorting
Material Handling
Patented In-mold Labeling
Over Molding
Multi-shot Molding
Assembly
Insert Molding
Precision Color Blending
 Plastic Injection Molding for Retail   Packaging
 What Is Plastic Injection Molding?
Injection molding is the process of mass-producing custom retail packaging designed specifically for a certain product. Goods fit perfectly into these packaging materials, which are often designed to serve practical and protective purposes.
 Here's how it works:
Plastic granules or polymer beads are introduced into a machine that generates heat to melt the beads into a fluid.

The machine injects the fluid into a mold.

Once filled, the mold enters a cooling phase to allow the plastic fluid to take its shape.

The newly molded plastic is extracted from the mold and can undergo additional processing, such as coloring, cutting, embossing, engraving, CNC machining, and more.

The process repeats continuously until the desired volume is reached.
 Injection Molding in the Beauty Industry
 When used in the beauty industry, molding package products are also produced with aesthetic value in mind. 
 Injection molding is more cost-effective at a higher volume of production. Moreover, injection molded packaging created for a specific SKU may only be usable for that particular product. So to maximize their investment, beauty companies ensure that plastic containers and packaging components fulfill practical and aesthetic purposes. 
Functionality is also a requirement for injection molding in beauty product packaging. For example, creams, serums, and gels need durable and sealable containers to prevent contamination. Most product packaging that doubles as a dispenser, such as spray bottles, twist-up canisters, or roll-on containers, also has multiple parts made with injection molding. 
Injection Molding in the Health Industry
The use of plastic molded packaging makes sense for healthcare and hygiene products, like surgical masks, wet wipes, capsules, tablets, syrups, gels, creams, and more. 
Many of these products need to be packaged individually, and injection molding gives the best and most efficient use of packaging materials. In addition, since the molds are created according to the product's shape, and the machine dispenses a precise volume of melted plastic into the mold for each pass, material waste is much lower for injection molding. 
The medical device manufacturing industry also takes plastic injection molding to the next level. Apart from creating primary packaging materials, they use injection molding to mass-produce items used in hospitals, like syringes, IV and respirator components, casings, test tubes, beakers, containers, and more. 
We Serve Manufacturers and Packaging Companies
All-Plastics, LLC, leads the industry for innovative packaging solutions for various industries. We provide for the packaging needs of manufacturing companies looking for high-quality packaging solutions with high customization. Our engineers have years of experience catering to customers' needs in the pharmaceutical, beauty, medical, industrial, and consumer markets. 
We also offer our services to manufacturing companies that urgently need injection molding equipment and expertise to meet their customers' demands. We are a trusted supplier of high-tolerance plastic packaging for diverse uses. We serve different markets and provide turnkey, full-service solutions that include prototyping, tool building, and assembly. 
Inquire today.