All-Plastics Rolls Out The Red Carpet
All-Plastics Rolls Out The Red Carpet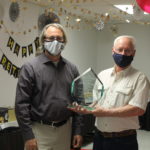 All-Plastics, a plastics injection molding manufacturer held a red-carpet event with an award dedication to celebrate one of its long-time employees, Lance Stevens.
Lance has been employed in the Kerrville facility since 1984 in the tool and die department that provides manufacturing support to the injection molding process by crafting creative solutions to enhance mold performance to ensure quality parts are produced.
The manufacturing facility in Kerrville was established in 1980, and at the time manufactured solely surface mount device reels and assemblies used in the handling, transport and storage of semiconductor and other electronic or mechanical components. The Company still manufactures these SMD reels today, but in a small capacity. All-Plastics mostly manufactures devices for pharmaceutical, medical device and food and beverage companies with complex tolerances ranging from +/- 25 microns and above.
"Tool makers are skilled craftsman and Lance has been a shining star and a key force in our ability to differentiate ourselves from our competition for so many years," said Thomas Houdeshell, CEO/ President.
Lance is described by peers as kind, sincere, loyal, respected, highly skilled, professional, reliable, expert, meticulous and with a great sense of humor. Lance's favorite thing about his job over the last 36 years has been having something new and challenging to work on every single day. With over 13,000 days in 36 years, it is quite an accomplishment to face new and complex challenges, day in and day out, and it takes dedication and a positive mindset to overcome obstacles.
All-Plastics held an employee come-and-go event for other team mates to congratulate Lance on his next adventure. The Company had custom cookies made that looked like tools a Tool Maker would use, a variety of individually served desserts along with sparkling cider to toast Lance. All-Plastics dedicated an awarded which was presented to Lance at the event called "The Legacy Award" to commemorate his accomplishments for his untiring commitment to quality, unselfish efforts to benefit the team and its customers they serve, and unwavering dedication to his work that has contributed to the growth and success of All-Plastics.
Lance plans to spend his retirement at home repairing things and remodeling and expects to miss the interesting work and the people he works with the most.
---
---
---