All-Plastics Adds Technology in Quality Inspection
All-Plastics Adds Technology in Quality Inspection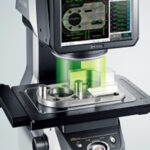 All-Plastics, a plastics injection molding manufacturer, adds additional quality inspection vision system equipment to reduce inspection times.
With the uptick in demand of single use medical components used in parallel with the COVID-19 worldwide pandemic, All-Plastics had to gain time efficiencies to support an increase of product needed. One of the ways they were able to reduce time was through adding additional technology in quality inspection. All-Plastics purchased and implemented a Keyence Vision System (IM Series) to reduce inspection time that attributed to faster results, faster decision making and ultimately faster delivery of parts.
The Keyence Vision System once programmed can perform automatic measurements up to 300-part features in a matter of seconds by pushing one button. The old inspection method yielded a 48-minute dimensional check and 15-minute cavity sort. The new inspection method, with the Keyence system, has been reduced to 10-minutes. This allowed for a gain of 53 minutes per shift, which also equates to 106 minutes per day.
"The purchase of the Keyence Vision system has yielded great returns in time and accuracy. Our Quality team is able to take the time gained to be more hands-on training staff on the production floor," said Thomas Houdeshell, President.
The system is equipped with a 20-megapixel CMOS sensor for crisp, clear resolution enabling it to capture and accurately measure fine edges. It also allows for a 360-degree rotary fixture for multi-surface measurement. The system allows accurate and repeatable measurements instantly.
Other quality measurement equipment All-Plastics uses to satisfy quality and testing requirements include: Smart Scope, CMM, Optical Comparator, Spectrophotometer, Surface Resistivity Meter, Melt Flow Index, Moisture Analyzer, Height Gages, Micrometers and Calipers.
---
---
---