All-Plastics Acquires Vention Medical Kerrville, Texas Facility
All-Plastics Acquires Vention Medical Kerrville, Texas Facility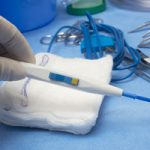 Thomas Houdeshell, President and CEO of All-Plastics, Addison (Dallas), Texas announced the expansion its medical components manufacturing footprint through the acquisition of the Kerrville (San Antonio) division of Vention Medical.
Vention Medical announced in July that the Kerrville facility would be closing in March of 2017 leaving approximately 70 employees without jobs. Houdeshell said, "Adding this group of highly talented personnel to our established team is not only a win for us, but also a win for the city of Kerrville and the surrounding communities." Houdeshell was part of the ATEK senior leadership team when the company was sold to Vention Medical in 2011. Under Houdeshell's leadership at ATEK Plastics, the company was recognized in 2010 by Harbour Results (a national plastics benchmarking company) as one of the top performing plastics manufacturing facilities in the country. Also in 2010, the ATEK team was recognized by Plastics News as the 2010 Processor of the Year Finalist. In 2011 ATEK received the Plastics News Culture of the Year Award.
All-Plastics currently manufacturers medical device components and assemblies in the diagnostics, orthopedic, wound management, vascular and new therapies markets. With this acquisition, the company will increase its footprint in vascular and new therapies while adding infection prevention. In addition to medical device manufacturing, All-Plastics specializes in manufacturing solutions for the industrial, consumer and packaging markets. All-Plastics manufacturing capabilities include: product design and development, precision injection molding, clean room molding, assembly and packaging.
The acquisition was effective September 8th and will provide All-Plastics additional customized services to enhance its current and future customer partnerships.
---
---
---