All-Plastics' Addison Facility Becomes ISO 13485 Certified
All-Plastics' Addison Facility Becomes ISO 13485 Certified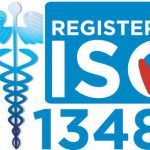 DALLAS (Jan. 16, 2018) – All-Plastics, an injection molding leader in technology-driven manufacturing and project management, announces the official ISO 13485 certification of their Addison facility.
"When you manufacture millions of medical and pharmaceutical components each year, safety and quality are non-negotiable," says Thomas Houdeshell, CEO/President of All-Plastics. "Obtaining this additional certification in our Addison facility is just the added documented validation of our best in class systems and procedures we have in place."
The ISO 13485 certification aligns the management system at All-Plastics to the requirements of the FDA's Quality System Regulation requirements and many other regulatory requirements found throughout the world. Obtaining this certification provides All-Plastics with an organizational streamlined approach and focus on continuous improvement.
All-Plastics' Addison facility has grown the medical device portion of their business from 18% in 2016 to 23% in 2017. The certification supports the companies goals and continued growth in the medical and pharmaceutical markets. All-Plastics' Kerrville facility earned their ISO 13485 certification in 2010 and 81% of the overall business in 2017 was medical device and pharmaceutical manufacturing. The component markets include infection prevention, diagnostics, orthopedic, wound management, vascular and new therapies.
---
---
---