All-Plastics Micro Molds Medical Devices
All-Plastics Micro Molds Medical Devices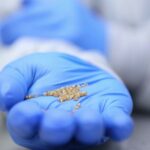 All-Plastics, a plastics injection molding manufacturer molds micro components used in assembled medical devices that are smaller than the plastic pellet it takes to produce the part.
Plastic pellets, also known as resin, are tiny pieces of plastic that range from 1-5 mm in diameter that are melted and formed into finished goods. Many times, micro plastic components are smaller in size than the plastic pellets themselves. The expertise to make precise parts of this size is very specialized along with the equipment to test to ensure accuracy.
"As medical devices get smaller and smaller, so do internal components. Our skills in scientific molding that provides consistency and less variability enabled us to venture into micro molding which is now critical to our industry," said Thomas Houdeshell, President.
All-Plastics started molding micro components in 2016. The parts they manufacture that are less than a gram in weight and are used for internal componentry to diabetes pumps and surgical instruments. The parts have +/- 0.0001 tolerances and are tested and evaluated by quality using vision systems and microscopes to evaluate the challenging geometry.
---
---
---