All-Plastics Sees Rapid Growth in FDA Regulated Markets
All-Plastics Sees Rapid Growth in FDA Regulated Markets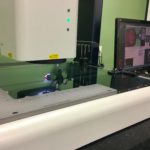 All-Plastics, a Texas manufacturer known for high precision Medical Device manufacturing, experiences rapid growth in FDA regulated Food and Beverage Market.
The Company reported a 1,135% increase from 2016 to 2017 in manufacturing of Food and Beverage componentry. They project an additional 121% increase in the corresponding market over the next 12 months.
Thomas Houdeshell, CEO/ President said, "Growing our Food and Beverage market portfolio made perfect sense, as we are already set up for success. The three common quality centered customer requirements across the two regulated markets are traceability, accuracy and contamination control. Our internal ISO standard requires a streamlined validation process from market to market."
All-Plastics utilizes scientific injection molding techniques to deliver consistent dimensional tolerances of +/- 25 microns. Each facility is equipped with in-house tool shops to support consistent production. The facilities clean room environments provide contamination control to support the established zero defect processes and philosophies. The company utilizes IQMS real time process monitoring and RJG eDart systems for efficiency and accuracy of automated production reporting and stability for long term data storage.
The rapid growth in the Food and Beverage market supported the additional equipment purchases in 2017, including six new injection molding machines with tonnage ranging from 14-200T. During Q1, the company purchased one additional Toshiba and foresees purchasing 7 new machines in the next 24 months.
---
---
---