All-Plastics Expands Educational Outreach
All-Plastics Expands Educational Outreach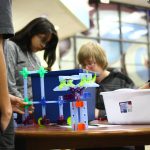 DALLAS, TX – All-Plastics, an injection molding leader in technology driven manufacturing and project management, has announced several recent initiatives to give back to local Texas communities. As a result, All-Plastics was honored as the 3rd place winner of the 2017 MAPP Educational Outreach Award.
Most recently, All-Plastics team members instructed classes at Hal Peterson Middle School on October 19 to technology students to energize an interest in manufacturing and like careers. The students were Engineers for the day and were able to partake in a STEM challenge with parts made by All-Plastics. The activity was developed in partnership with Brackitz, using their open ended construction set. All-Plastics makes a habit of donating to local schools and public school foundations focused on providing STEM based grants for innovative teaching in the classroom.
On October 17, All-Plastics hosted a discussion with 32 members of Leadership Kerr County to address the intersections of manufacturing and economic development.
All-Plastics also hosted 15 students of the Society of Plastics Engineers from Baylor University at their Addison facility on October 6, 2017. The event was designed to encourage students to join the plastics industry by demonstrating the opportunity and lesser-known sides of the trade.
On September 29, All-Plastics played host yet again to a group of 18 accounting students from Schreiner University at their Kerrville facility outside of San Antonio. Curriculum included presentations on lean manufacturing, kaizen, BOMS, and costing as well as discussions on job opportunities in manufacturing.
Last November the team at All-Plastics enjoyed a full day presenting to every junior and senior student in health career courses at Tivy High School about careers in health care through manufacturing. A detailed Q&A session was followed by discussions of different medical devices manufactured through plastic injection molding.
---
---
---